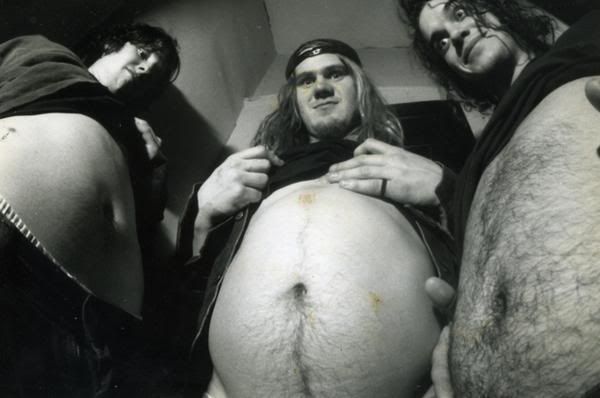 Buzzov*en - Sore
Buzzov*en - ... At A Loss
In the world of sludge there are technically a ton of bands, but when it comes to SLUDGE and it's foundation, there are only two. Eyehategod... and Buzzov*en.
Sludge can sort of be defined as the disgusting, even more anti-social, down-syndromey bastardbaby of hardcore and doom metal. For anyone who listens to hardcore, the thought of crossing a genre that values speed with a genre that values plodding slowness should raise an eyebrow. Well, if you're on as much fucking smack as the guys in Buzzov*en were, this cross doesn't really raise shit much less an eyebrow. In fact, it's probably the only kind of speed you can muster besides the crank you just bought off that biker.
Buzzov*en basically sounds like all the drug-addicted, shit-filled, depressed, violent hate in the world bottled up and slowed to an irrepressible crawl. There's no stopping it, just submit. After over a decade, their first three full lengths are still some of the most, brutal, depressing, heavy music ever committed to tape. Feedback, a layer of creeped out movie samples about violence, and distorted riffs under screamgrowled vocals pretty much sum up the sound that defined a movement.
Start with To A Frown, move to Sore, and end with ...At a Loss. Then
buy your tickets
. Thanks to Dozer at
the Acheron
/
Crust Massacre Gig
for the tip off on this one. It's going to be messy.
NOTE: MY TO A FROWN IS ALL FUCKED UP AND NOT RIGHT, IF ANYONE HAS A COMPLETE VERSION THAT'S NOT SCRATCHED AS HELL PLEASE SEND IT? OH YEAH ALSO ALBUM ART IN A DECENT DIGITAL SIZE WOULD BE RAD...