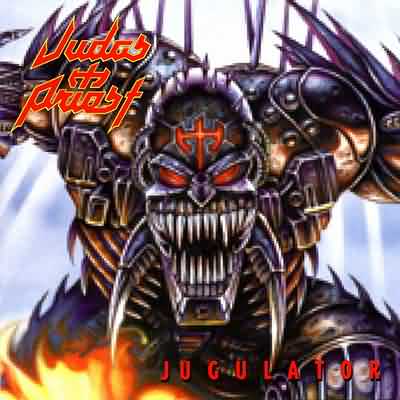 Since this is my first post and I'm in Tokyo, let's talk about something tangentially related. Loud Park. If you don't know what those words mean, then you probably haven't seen the Anvil documentary and I would advise you do something about that. Loud Park is Tokyo's big annual two-day metal fest (it was the other weekend) and I sat it out this year.
So in honor of me not getting off my ass to go see Halford co-headline Loud Park with Korn (it's over a $100 for the day too- yeah fuck that shit), here's Judas Priest's first (of two) album sans-Halford: Jugulator. I first heard a track off this when one track somehow wandered into my library. I believe it was "Burn In Hell". It always caught my ear when it came on, partly cause the singing sounded a little different. I finally got around to picking up the full album a while back and did a little research after talking about it with a co-worker who was stoked on the album. He told me it was Tim "Ripper" Owens from Iced Earth on the mic, and although I'm not big on IE, the absence of Halford and that one track were bait enough for me to check it out. Man am I glad I did! This has the later Priest flavor that is more aggressive and has a lot of double kick work. Don't get me wrong, I listen the shit out of some Stained Class, but I like the more heavy, evil sounding shit too. And it turns out the guy's no slouch on vocals! The band definitely had something to prove without their main man and they rose to the task. It's no Painkiller, but it's well worth the listen. Other reviews I've read of this album are pretty mixed, but the naysayers are all the douchey purists you always come across who can't follow a band through changes and expect them to put out albums that all sound the same for decades on end. Fuck that, this album rules!
Click image for DL.
Or if that's not working, do it the old fashioned way.